Help Us With Our Upcoming Projects!
Nehemiah House MAD Fund
The Nehemiah House is a safe house in the Phillipines for abused girls ages 6-18. It is very easy to get passionate about this ministry, just ask almost anyone at a City's Edge service! The two main things we do to support the Nehemiah House is pray for them and provide a MAD Fund (Medical and Dental).
Prayer:
Here is a very general idea of what we pray for.
Pray for...
| | |
| --- | --- |
| Jesus in the girls' lives | The futures of each girl |
| Healing- emotional and physical | The staff and missionaries |
| Court Cases | The girls in school and their community |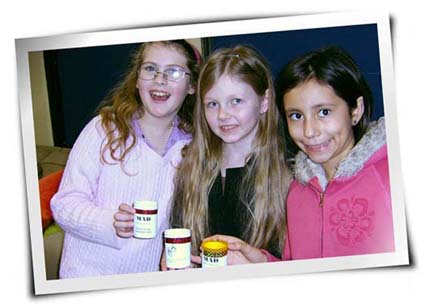 MAD Fund:
Money collected for the Medical and Dental Fund goes directly to pay for surgeries and other medical needs of the girls (every penny, there is no overhead). A few bucks here can pay for entire surgical procedures there, so a little bit really does go a long way in this case. There are green envelopes near the Nehemiah House display at City's Edge where anyone can contribute at any time. We also do occasional extras, like when the children made ornaments to "sell" around Christmas- the money went straight into the MAD fund and the ornaments contained prayer reminders like "peace" and "healing".
There are pamphlets available at City's Edge if you want more details about the Nehemiah House or our involvement. You can also see Beth Banham or Sarah Lawson if you have any questions or want to get more involved.
New for Summer 2011
Mark and Patti have given us a
wish list
of items they need for their ministry in The Philippines. Stephen Bauman is point person for this project. Please look over the list and let him know if you are interested in contributing money towards a specific item, or picking up the items yourself. When we have a box-load, we'll ship.