2011 Events NOT to Miss!
Pizza and the Newberg Fireworks
7:30, Saturday July 30th
Meet at Izzy's Pizza (2512 Portland Road in Newberg)
The fireworks will be set off in the athletic field on 7th and Blaine. (Take a left on Blaine off 99)
Our group will be located just inside the track by the bleachers.
All Church Camping Trip
August 17-19th 2012
Check out the
City's Edge Retreats
page for details.
BBQ and Croquet at Gary and Phyllis's
Sunday, September 11th at 1:00 in the afternoon.
5070 SW 163rd Aloha, OR 97007
(The yellow house on the corner of Farmington Road and 163rd )
(503) 649-2389
Bring a salad or dessert to share.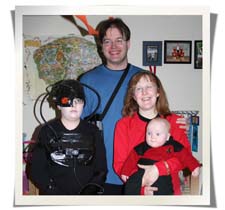 Halloween Party
October 29th at the Millers
3074 SE 171st Dr. Portland, OR 97236
(503)761-4502
This is a costume party!! Kids can show up early at 5:30 to trick or treat with the group.
Dinner for the rest of us will start at 6:30. This event is a potluck so bring something to share.
City's Edge Annual Retreat!
November 4-6 2011
Check out the
City's Edge Retreats
page for details.
Christmas Party at the Spaghetti Factory
Date: TBA Usually a Thursday night mid-December
This is an adult only (babies okay) dinner and white elephant gift exchange party. Bring a wrapped gift $5 or less or something you already have. Gifts are exchanged, stolen, loved and sometimes hated (the latter get recycled a lot, hehe). Lots of fun! Price usually runs around $15 a person. More details to come closer to the date.
Hogmanay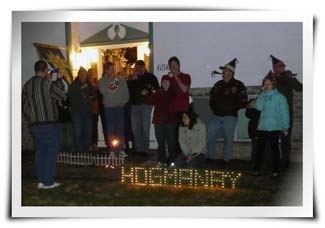 (Fancy name for New Years Party)
December 31st at 8:00 until a little after midnight
At Richard and Kathy's Home
656 NE Wendy Lane, Gresham OR, 97030
(503)667-2523
Bring some snacks to share and games to play (i.e. board games, card games, consoles with games, etc.)
The Big Game Party!
Super B Sunday, 2012, 3:00ish at our Building.
Enjoy the game on the big screen!
Whether you're there for the football, the people, the food, or even the wacky commercials... it's the place to be!
Don't forget to bring some snacks to share. It's all about the food... oh wait, I mean football! Yeah, football! Although... I think I can speak for several in requesting Jody & Dave bring those bacon wrapped mini sausages!
Men's Retreat
February 24-26, 2012
Check out the
City's Edge Retreats
page for details.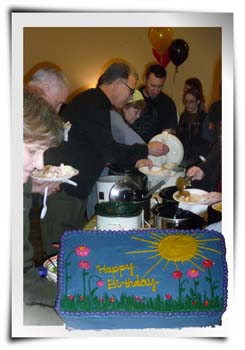 City's Edge Birthday Bash
A Saturday in March, Stay Tuned!
City's Edge is turning 15! Woot!
Bring a dessert to share and get ready for some Karaoke!
MAYHEM!
The entire month of May.
This is where people can try out different ministries, help in a different way, try something we've never done, get to know people you'd like to know better, mix it up, etc. It can range from different styles of music, to the telling of people's stories, to... well... even the Spanish Inquisition! It's a month NOT to miss!
Mayhem 2012 was amazing! Several stories shared, (both on Sundays and different platforms), small groups were started, great music played, fun dramas with guest actors, and so much more! Best of all, people really connected! There will be a planning meeting on a Sunday after church in April. Listen up for the time so you can be there to volunteer yourself, others, and say yes or no when you're volunteered! hehe Seriously though... don't miss May! You will be blessed! And likely, tears and laughter will make their appearances.